AWITM Certification is now available for Welding Supervisors
Streamlined, relevant and practical certification.
The Australian Welding Institute AWITM has been successful in introducing and running a program for AS 1796 Certifications 1 to 9. The  AWITM  is now extending the program to include Certifications 10 and Welding Supervisors to AS 2214.
The industry has been waiting for the return of a practical, relevant qualification, which is cost competitive to the WTIA.
Wait no longer, the AWITM  are making this happen!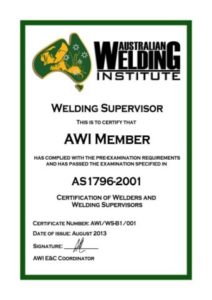 AWITM examination papers have been written and validated by industry experts that have extensive experience in the relevant disciplines.
Feedback from running the first round of examinations are exampled below:
'they are based much more on what we need to know in the workshop'
and
'it was a very detailed exam but based on practical application of being a supervisor'.
The AWITM has listened to key stakeholders – Industry, but more importantly -YOU – and have provided a certification system that measures the skills and knowledge of welding supervisors. For example, there will not be questions on MIAB or Laser welding in the exam. Instead, we have elected to use the examination period to focus on the more 'relevant skills'.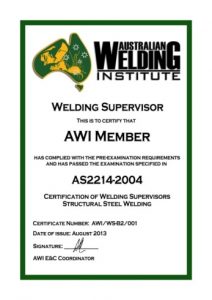 EXAMINATION DATES 2013
to be held in all capital cities *based on demand
Friday 11th April 2013 Paper A
Saturday 12th April 2013 Paper B1 and B2
At the very least the examinations will be held in Adelaide and Perth, but other sites will be included based on demand.
If you would like to sit your examinations with the AWI, contact your local AWITM representative (details on back cover) or email admin@welding.org.au.
Application forms will be forwarded to you.
Your intention to sit for the examinations needs to be in by 21/3/14 with formal applications closing on  21/3/14.
'Don't expect it to be easy, AWITM is raising the bar on these important industry qualifications'