Pipe fabrication shops are looking for decreased welding times and more welded joints per day. This machine gives you ultimate savings and profits from your mild steel or stainless steel process pipe welding. More production output and faster completion time leads to significant cost savings. The new PIPEFAB™ welding system from Lincoln Electric is the ideal setup for pipe and vessel fabrication. Increasing your speed and productivity by up to 51%.
From concept to reality, the PIPEFAB™ welding system was developed for one purpose – to deliver the ideal setup for pipe and vessel fabrication. From machine design to arc performance, no detail was overlooked in delivering a complete, customer-driven system that lets your shop focus on what matters most – making high-quality root-to-cap welds, faster and easier.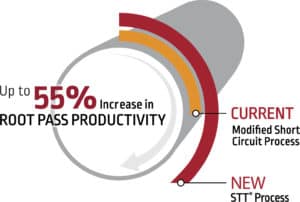 The PIPEFAB™ features game-changing performance and simplicity. Breakthrough arc performance – from root, to cap, to final fit – the PIPEFAB™ system has you covered with weld modes that have been fine-tuned to deliver breakthrough arc performance specifically for pipe and vessel fabrication. Industry-driven design – like the name says, the PIPEFAB™ system was developed specifically for pipe and vessel fabrication. With its Ready-to-Run™ design, every detail was considered in creating the ultimate setup for the pipe and vessel industry. Ready-to-Run™ design keeps all process outputs electrically isolated and ready to weld when needed – meaning you'll never have to swap cables to change processes again. Straightforward and simple – Developed to be the fastest, smartest, and easiest solution on the market, the PIPEFAB™ system delivers straightforward and simple digital control with one-click process selection. Based on our successful Power Wave machines, the PIPEFAB system allows you to control welding as a process (implement, control and verify).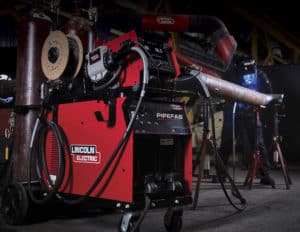 The PIPEFAB™ system's display was designed, evaluated, and tested to deliver one thing – machine interaction that is as simple as possible. Lincoln wants you to weld more, worry less the PIPEFAB™ system helps maximise arc time and allow operators of all skill levels to focus more on making great welds. With one-button process changes, straightforward, easy-to-understand navigation, memory buttons for preferred settings, ArcFX® technology for visual arc settings feedback and single point of use – all controls in one location on the feeder.
0
The intelligence has been built in. All PIPEFAB™ systems come ready to connect to powerful, yet simple-to-use software for configuration, updates and weld data monitoring. Including remote diagnostics and configuration, free and easy software updates – never worry about swapping or storing memory cards and CheckPoint® Production Monitoring. The PIPEFAB™ welding system is Industry 4.0 ready. Whether you are a pipeline contractor, mechanical contractor, vessel shop or general welding shop you want to maximise your pipe-inches made per day per welder.
Trusted expertise and support – Whatever challenge you may have Lincoln Electric is here to help with proven industry knowledge and support.
For more information or a demonstration visit the Lincoln Electric website.