First AS/NZS ISO 3834 Assessments for AWI
In late February, two auditors from AWI conducted AS/NZS ISO 3834 Part 2 assessments at two locations in WA. The first was at South32 (ex-Worsley Alumina) in Collie and the second was at OJG Engineering in Maddington in Perth.
South32 had expressed a desire to move away from certification and opted for a compliance assessment, whereas OJG Engineering wanted full certification. In terms of auditor input, there is no difference between certification and compliance since exactly the same amount of work has to be done.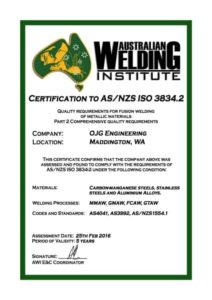 The South32 welding management system has been in operation for many years and has developed into a fully functional electronic system. All information requested during the assessment was readily retrieved and the record keeping is first class.
In the opinion of both of the AWI assessors, this is the type of system that all fabricators in Australia should be aiming to achieve since it would make all aspects of operations from quoting to development/submission of welding procedures, ITPs, NDE reporting, traceability and record keeping extremely straightforward. Much of the success of South32's system can be accredited to the efforts expended over the years by the two RWCs (Responsible Welding Coordinators) Corey Falco and Jason Cable supported by the South32 Management. Well done South 32 on achieving AS/NZS ISO 3834 Part 2 Compliance and being the first company in Australia to do so under the AWI banner.
In comparison with South32, OJG Engineering is a much smaller operation and its main products revolve around its main customer which is the Water Corporation of WA. The assessment in this case was Certification rather than compliance at the behest of OJG's customer. Certification under AWI is not done in accordance with any scheme or national system but rather against the requirements of AS/NZS ISO 3834 Part 2. OJG Engineering already had certification to ISO 9001 and the AS/NZS ISO 3834 assessment really emphasises the difference between the two standards.
As is invariably the case, several procedures had to be developed to meet the requirements of AS/NZS ISO 3834, including equipment maintenance, production planning, post weld heat treatment, welding coordination, preparation of welding procedures, etc. This is a common finding and is rectified readily during the assessment. No non-conformances were raised during the assessment.

AWI would like to congratulate both companies on achieving certification/compliance and we look forward to conducting more assessments on other fabricators in the future. AWI takes the attitude that once a fabricator has committed to an assessment, we will work with them to ensure that the final outcome is the desired one – even if it mean that issuing of the Certificate is delayed until the assessors are completely satisfied that the requirements have been met and the assessment result is acceptable.
Western Australian Fabricator OJG Engineering recognises the benefits of Company Certification to AS/NZS 3834 – Quality requirements for fusion welding of metallic materials
As part of OJG Engineering's ongoing emphasis to quality products. The management team welcomed the opportunity for the Australian Welding Institute (AWI) to conduct a AS/NZS 3834 Certification Audit to their quality Management system.
The AWI Audit team of Alan Bishop and Phil Richardson applied the audit process to AS/NZS 3834 Part 2 Comprehensive quality requirements.
OJG Engineering (OJG) is a well-established, family owned and operated,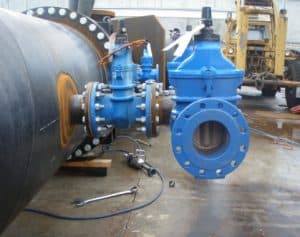 Perth based company specialising in steel fabrication, site installation, maintenance and minor civil works.
OJG's primary aim is to serve the construction and water service industries throughout Australia by providing a superior service, on time and within budget.
This AS/NZS 3834 Certification supports OJG's pre-qualification by the Western Australian Water Corporation on the construction panels and meets the essential Watercorp quality specifications.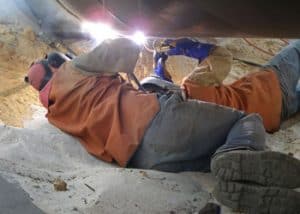 Many companies have achieved certification to AS/NZS 9001 with respect to their quality management systems. But where significant use is made of a special process such as welding, such certification is unlikely to provide the required demonstration of capability of the company to manufacture welded products of the required quality.
OJG appreciated the benefits of AS/NZS 3834 Welding Fabricator Certification Scheme and welcomed the opportunity to have this system to work alongside their AS/NZS 9001 Certification.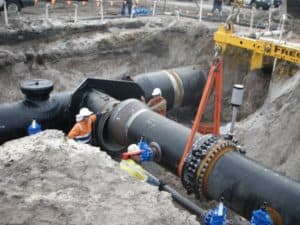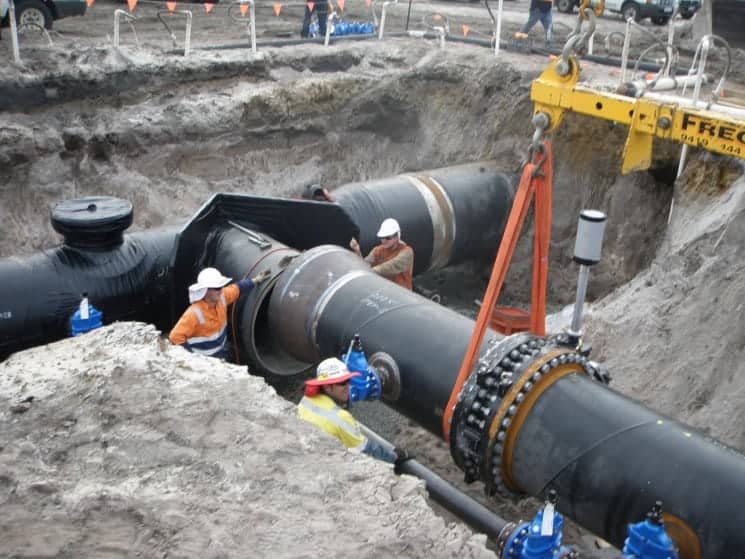 Email the AWI for more details: