AS/NZS 3834 News Story – South 32
(Ex-Worsley Alumina)
South 32 quality management team's first choice for extension of their ISO 3834 Accreditation was the AWI
South 32 had expressed a desire to move away from certification and opted for compliance assessment.
In late February the AWI audit team applied the compliance assessment to AS/NZS ISO 3834 – 2 at the company's Collie operations.
Responsible Welding Coordinators – Corey Falco and Jason Cable supported by South 32 management have developed a comprehensive welding management system over a number years.
The traceability of the essential documentation throughout the assessment was exceptional and the team have set an excellent example of what a weld management system should comprise of, with ease of accessibility and abundance of detail.
The company utilizes a range of sub-contractors On-site and Off-site and as part of the Welding Coordinators role is to manage all these companies throughout the fabrication/welding & pipe spooling work scope.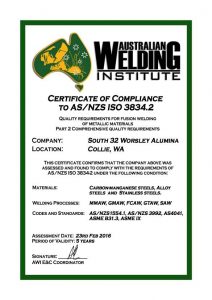 AWI congratulate the South32 team for achieving Compliance.
South32 – The Company history
In 2014, the decision was made to bring together a number of BHP Billiton's high quality, well-maintained assets and a team of great people to form a new resources company; one diversified by commodity, customer and geography.
In May 2015, following a successful shareholder vote, South32 was founded.
The roots of South32 are in the Southern Hemisphere, with a head office in Perth, regional hubs in Perth and Johannesburg, and marketing office in Singapore. Our operations span the globe, with assets in Australia, Southern Africa and South America.
Through our assets we have been working in Africa for 78 years, Australia for 80 years and South America since 1981.
South32 is a globally diversified metals and mining company with high-quality and well maintained operations mining and producing bauxite, alumina, aluminum, energy and metallurgical coal, manganese, nickel, silver, lead and zinc in Australia, Southern Africa and South America.
The creation of shared value is what drives our decision making processes. We work to understand the needs of all our stakeholders, including communities and shareholders, and align our business to deliver on their needs.
Delivery of South 32's strategy has three key elements:
Optimize the performance of our existing assets through a relentless focus on the basics – safety, volume, cost and capital expenditure
Maximize the potential of our existing assets by converting high-value resource into reserve
Identify new opportunities to increase competition for capital
We will achieve this by being a best-in-class operator, focusing on our employee and stakeholder relationships, demonstrating entrepreneurial spirit and being financially disciplined.
South32 listed in May 2015 and our securities trade on the Australian Securities Exchange (ASX), Johannesburg Stock Exchange (JSE), London Stock Exchange (LSE) and the NY American Depositary Receipts Program under the listing code of S32.
We believe that when we work together, we create a brighter future for all.
Email the AWI for more details: