Take the guesswork out of welding with AUTO SET!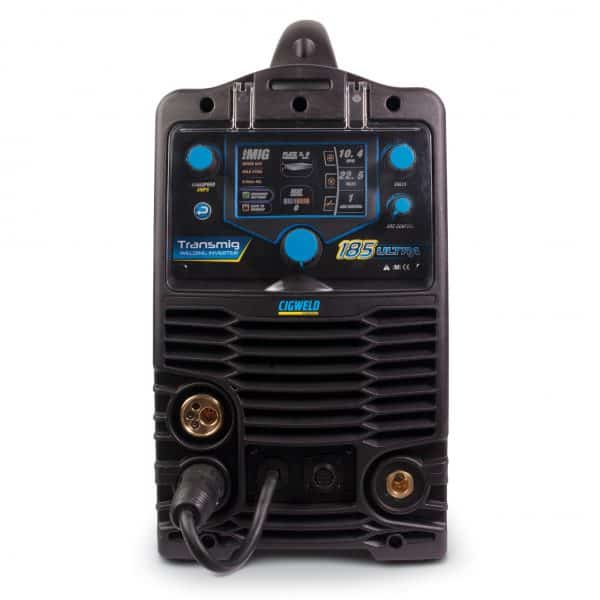 The Cigweld Transmig 185 Ultra features an impressive AUTO SET function that allows the user to weld like a Pro with no previous welding experience necessary.
Simply select the material type, thickness & consumable diameter and AUTO SET will pre-set the Wirefeed Speed (Amperage) and Voltage (MIG) along a pre-programmed synergic line. Experienced welders can then customise their settings by tweaking their wire speed and volts according to their technique and other factors. The AUTO SET function is available in all 3 processes: MIG, STICK and TIG!
Easily return to your previous weld thanks to a sophisticated Memory Function, or save up to 9 of your favourite weld settings!
The 185 Ultra comes with an integrated wire feeder that holds up to a 200mm spool, and boasts a range of Professional Features to ensure optimal welding results:
Burnback Control
Arc Control
2T/4T
Spot/Stitch Weld
Pre/Post Flow
Up/Down Slope
Arc Force
Hot Start
Anti-Stick
VRD (applicable in Stick mode only).
Most importantly the 185 Ultra is fitted with a 10Amp plug, allowing you the flexibility to plug and play anywhere in your home or workshop.
The power source weighs just over 17kg, and all accessories can be packed inside a convenient purpose built Heavy Duty Backpack (W4018001), making the Ultra portable and ideal for any home or job site.
The 185 Ultra is back by a 3-year warranty and is fully compliant to Australian Standard AS 60974.1 and IEC 60974.1 so you know you have a safe product you can trust!
With excellent welding performance across a broad range of applications, anyone can weld like a pro.
You set the process and the Ultra will do the rest!