ESAB Renegade ES 300i & ET 300iP
Welders are always on the go, so their machines need to be too. They need to go fast and far. They need a machine that can keep up.
That machine is the Renegade.The most portable machine with the highest power-to-weight ratio that's always ready for the next move.
Renegade runs Stick and TIG and has the widest input power range on the market, making it capable of handling both single-and three-phase, and puts out 5-300 amps @ 40% duty cycle.
To top it off, Renegade has a superior working range of up to 100m with minimum power loss.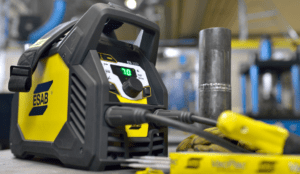 FEATURES & BENEFITS:
Reliable VRD:
Standards compliant Voltage Reduction Device virtually eliminates electric shocks when not welding (Stick Mode)
Portable with Power:
Renegade weighs in at only 15-17kg, and measures just 460mm x 200mm x 320mm – giving it the smallest footprint, compared to other competitors, and simplifying trolley manoeuvres when using it as a water-cooled system
Automatic Voltage Detection:
No need to rewire every time the machine is plugged in, thanks to a wide input voltage tolerance and ability to run on single-and-three-phase power
Outstanding Power and Reach:
Runs 300 amps @ 40% duty cycle with mains and welding cables up to 100m, making this a superior welding machine for both on and off-site applications 
Durable and Rugged:
IP23 rating for extreme conditions, like temperatures up to 55ºC
Cable Management:
An integrated latch system helps control cables so they can be secured to the machine, making it easy to pack up and go
Intuitive Interface:
The machine's digital readout display, along with large buttons and controls, make it easy to set parameters and read them from a distance, in any light, increasing accuracy and reducing downtime
Impact and Drop Tests:
Composite casing designed not only to meet the highest expectations for durability in rough environments, but to exceed them
ET 300iP ONLY:
HF TIG:
Strike the TIG arc using high frequency (HF) start sequence, which guarantees no tungsten inclusions. Switch to LiftTIG for applications where HF is not permitted
Pulse Option:
For TIG welding on thin material, choose the ET 300iP and use the pulse functionality with a frequency of up to 999 Hz, allowing superior arc handling, controlled heat input and increased travel speed
Water Cooler:
Simple, no fuss modular connection to water cooler (part 0445045880)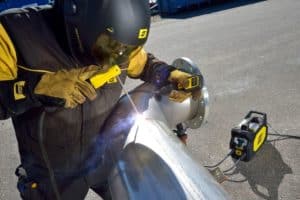 MMA Welding Capabilities
Hot Start:
Automatically adjusts your output which keeps the electrode from sticking to the workpiece
Arc Gouging:
Work with rods up to 1/4 in (6 mm)
E6010 and E6011 Cellustic Performance:
Provides higher arc voltage and longer arc length for impeccable starts and stops
High-speed Machine-to-Arc Communication:
Reads the arc fast, providing better control, a more stable arc, and virtually no spatter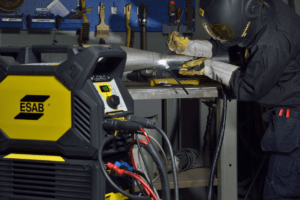 TIG Welding Capabilities
TIG Performance (ET 300iP only):
Excellent operational range from 5 – 300 amps, able to tackle a broad range of material thickness
Pulse TIG (ET 300iP only):
Superior arc handling when TIG welding thin materials, providing controlled heat input and increased travel speed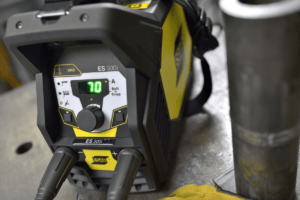 QUALITY & ENVIRONMENT:
IP23 rated
3-Year Warranty*
*Refer to operating manual for full warranty details.
APPLICATIONS:
Civil Construction
Pipe Construction
Repair and Maintenance
Heavy Fabrication
Industrial and General Fabrication
Mining
Steel Erectors
Ship and Offshore Yards
ORDERING INFORMATION:
For the full range of ordering information, see brochure.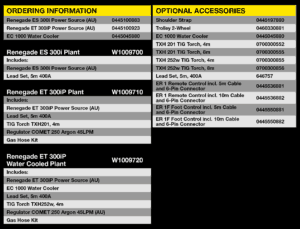 [maxbutton id="1″ url="http://www.cigweld.com.au/doclib/DIN/ESAB%20Renegade%20Brochure.pdf" ]