Leading international welding equipment manufacturer, Kemppi, has launched the new Kemppi X3 MIG family, an evolution of its popular HiArc MIG range. The X3 is a basic and cost-effective MIG alternative to Kemppi's premium FastMig welding family, but with a high duty cycle and robust design is suitable for the tough and demanding conditions found in the metal fabrication industry.
Available as a gas-cooled MIG/MAG welding package with carbon arc gouging, the X3 MIG Welder delivers excellent performance with up to 500 amperes at a 60% duty cycle. The machine is equipped with a wire feeder for 300mm wire spools and accepts wire diameters from 0.8 to 1.6mm, and with cored wires up to 2.0mm.
Benefits
It also offers outstanding welding control to deliver quality welds. The MIG/MAG process of the X3 MIG Welder has been carefully tuned at the Kemppi welding lab to give the arc excellent stability. This makes the arc easy to manage and minimises spatter, even when using inexpensive CO2 shielding gas. With less spatter, the need for post-weld grinding is reduced, and welders can use more of their time for productive welding.
In addition, the machine has a range of functions that fine-tune the start and end of welds, improve the quality of the weld and help boost productivity. These include Crater Fill, Burn Back, Hot Stop, Soft Start, Hard Ignition and Creep Start.
Plus, the machine is also very energy efficient. Kemppi is the number one pioneer in welding inverter technology, and the X3 MIG Welder uses the latest IGTB inverter technology to reduce its energy usage and minimise costs.
Features
A practical, no-nonsense machine for the professional welder, the Kemppi X3 MIG Welder is both robust and rugged. The system's wire-feeder features a fully enclosed and impact resistant dual-skin cabinet to protect the wire spool and feed mechanism so that it can withstand rough handling.
Compact and lightweight, the machine is easy to move between work sites. Ergonomically positioned handles ensure easy maneuvering of the machine. Plus, carriage and wheel set options are available to further facilitate easy transportation.
The X3 MIG Welder is simple to operate. The control panel communicates with the welder entirely by symbols. To select the basic features, the welder just pushes the appropriate buttons and makes selections with the adjustment knob. During welding, wire feeder control knobs are used to  adjust the wire feed speed and voltage. What's more, the X3 MIG Welder automatically takes care of adjusting the amperage according to wire feed speed in order to create top quality welds.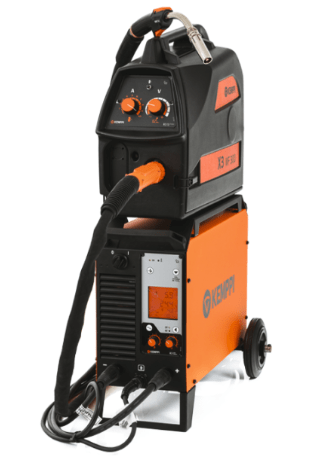 'The X3 MIG Welder contains all you need for basic welding work at a very competitive price,' says David Green, Managing Director, Kemppi Australia. 'It's the perfect companion for all professional welders out there, who just want to get the job done ‒ quickly and without compromising quality.'
For more information on the new X3 MIG Welder call Kemppi Australia on (02) 8785 2000 or email sales.au@kemppi.com